On behalf of the entire PTO board, welcome to our 2022-2023 school year! We hope that all of our new and returning Rocket families are ready for another incredible year together! For those of you who don't know, we are a not-for-profit volunteer organization made up of parents, teachers, administrators, and support staff.  Our PTO works hard to help make each school year the best for our students and staff. 
Time, treasure or talent – we've all got something to give! The Rohwer PTO sponsors many activities and events throughout the school year like Turkey Bingo, holiday parties, One School One Book, staff luncheons and so much more.  We also run an annual fundraiser each spring, the Rohwer Fun Run, to raise the money to support our events, programming, school improvements, fields trips, assemblies, art projects and teacher grants. These experiences are only possible because of our incredible parent volunteers. We look forward to working with all parents - no matter how much time you have to spare! Many tasks can even be done from the comforts of your own home.  The easiest way to get involved is to fill out the PTO volunteer form in the Online Directory.  Every extra hand helps!
Our PTO meets at Rohwer the first Thursday evening, every other month, to discuss events, share committee updates, and ideas.  Our meetings are a wonderful way to find out what is happening at our school from the PTO's perspective, a terrific way for parents to get involved, and an opportunity to meet other parents.  We have some exciting events planned for this school year, so be sure to check out the PTO calendar for meetings and events. Also, don't forget to follow us on Facebook @ https://www.facebook.com/RohwerPTO/.  Thanks in advance for your support and help this school year! Go Rockets!
PTO Presidents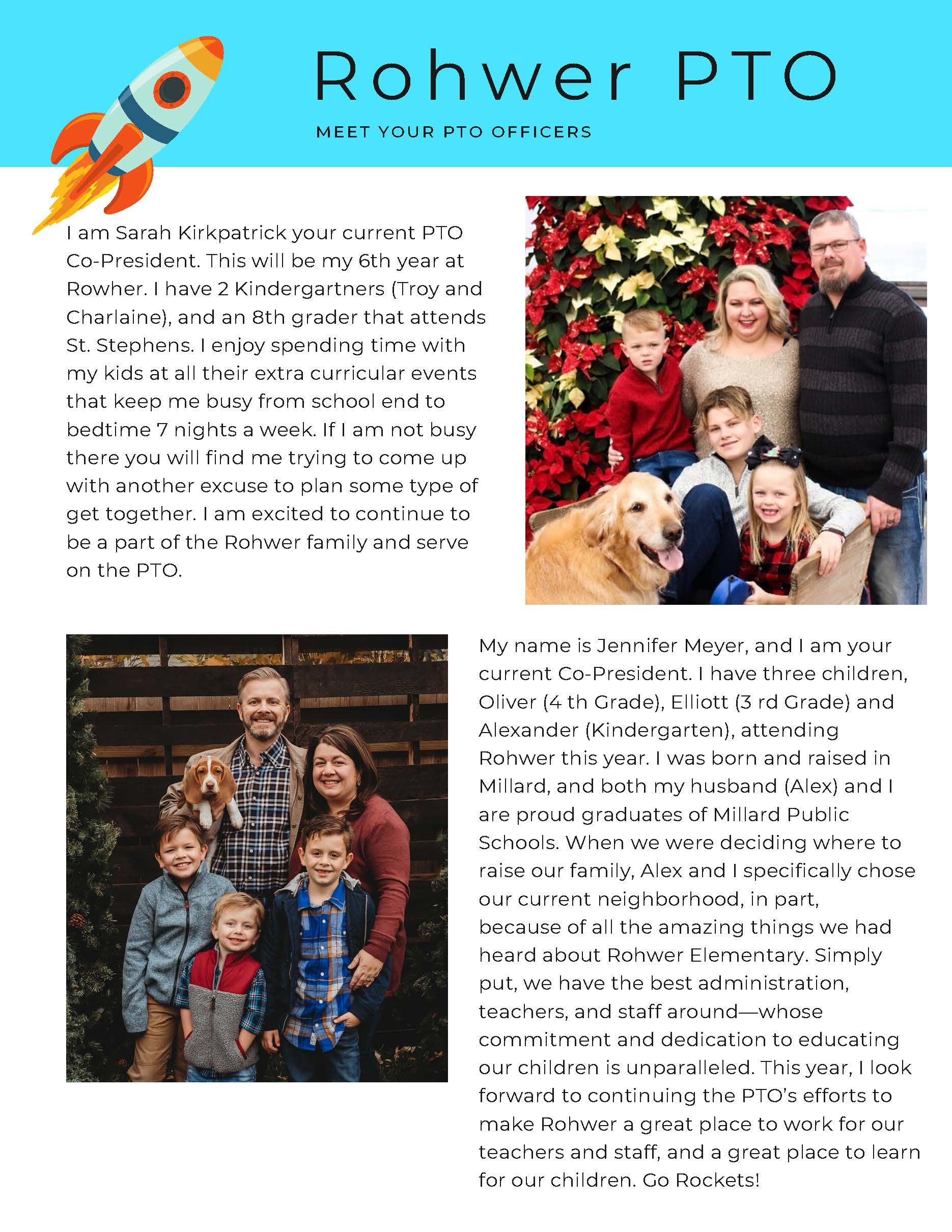 PTO Officers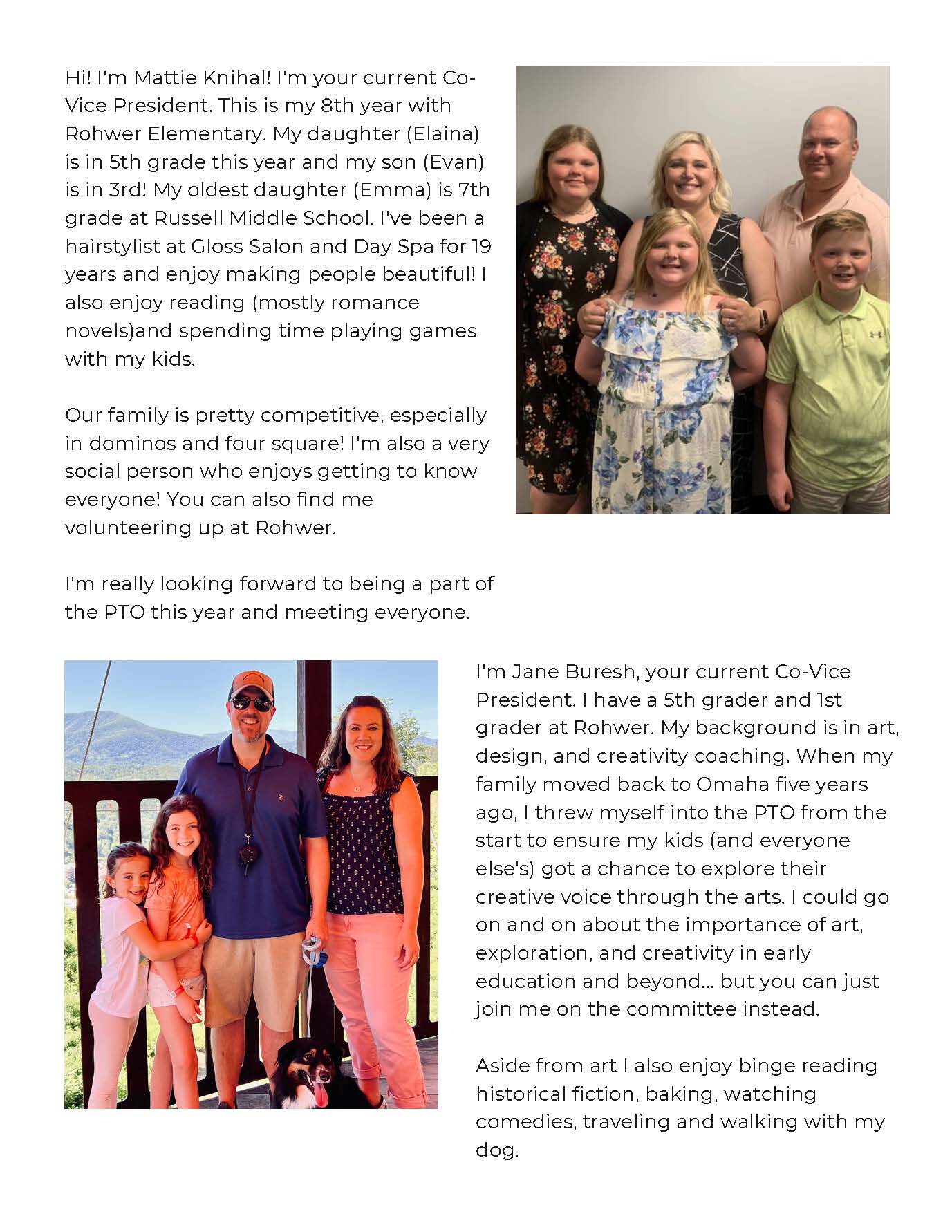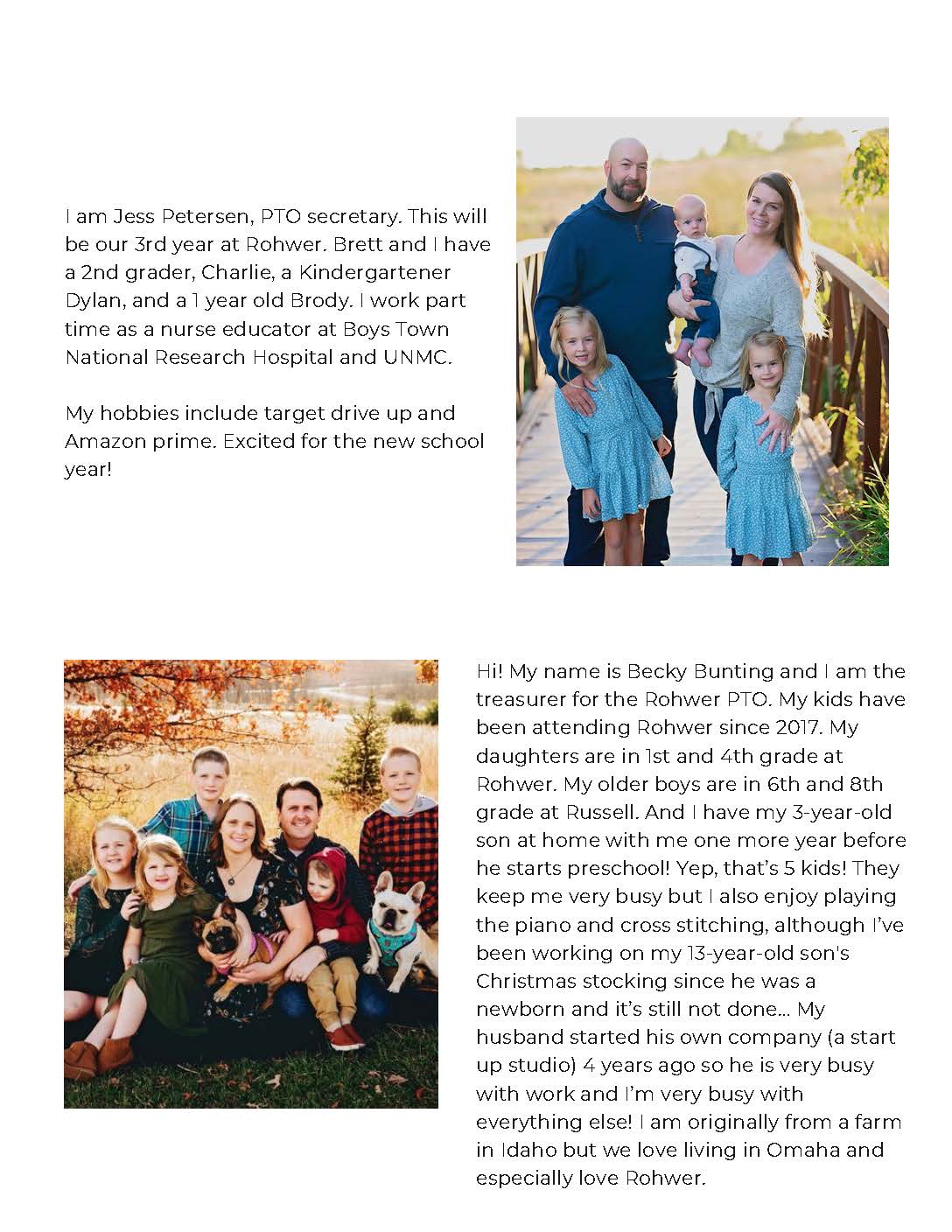 0
Meeting Minutes
Here are the monthly meeting minutes from the PTO meetings.
0
Calendar of Events
2023-2024 Calendar
July
7/14 PTO meeting (630 at Sarah's house)
August
8/7 Teachers Announced
8/8 Welcome Back to School Night 5-6:30 pm (5-7pm Food Trucks) (social/chairs)
 8/9    Back to school breakfast (hospitality)
8/10 First Day of School
8/30 Food night (social kids prom)
September
9/7 PTO Meeting @ 630 
9/12 Watch DOG Kick Off (pizza)
9/13 We Love You Wednesday for Staff
9/22 School Carnival 6:00-8:00pm (Food trucks start at 5:30pm)
October
10/10-11     Food Event Zios Pizza/Conferences (Courtneay for SAW)
10/10 Parent Teacher Conference Dinner 3:45-7:30pm (hospitality)
10/31 Halloween Room Parties & Parade
November 
11/8 We Love You Wednesday for Staff
11/9 PTO Meeting @ 630pm
11/7-10 Book Fair 
11/10 Turkey Bingo @ 6:30pm (social) 
December
12/09 Food night (social playground)
12/13 Cookie Exchange 
12/14 Variety Show Applications 
January
1/10 We Love you Wednesday 
1/11 Variety Show Auditions
1/11 PTO Meeting @ 630pm
1/18 Watch DOG event (cocoa/cookies)
February
2/3 Scholarship list schedule meeting 
2/6 Variety Show Dress Rehearsal
2/8 Variety Show Performance for Students 2-3 pm
2/8 Variety Show Performance for Parents 6:30-8:30pm
2/7-8 Food Event (Courtneay for SAW)
2/14 Valentine's Day Parties/Heart Hunt
2/23 Kids Prom
March
3/5 Food Night (social recess supplies)
3/6 We Love You Wednesday
3/7 PTO Meeting @ 630pm
3/11-13  Book Fair 
3/12 Parent Teacher Conference Dinner 3:45-7:30pm (hospitality)
3/25-29 SAW
April
4/4 Art Show/25th Ann Event
4/8-12 Spring Break
4/24 Administrative Professional Day (25th for Sandi)
4/29 Fun Run Kick Off
May
5/1 Kindergarten Tour Night
5/3 Kindergarten Round Up
5/8 We Love You Wednesday
5/9 PTO Meeting @ 630pm
5/10 Fun Run
5/15 National Education Bosses' Week (hospitality)
5/17 BOGO Book Fair???
5/17     Field Day/School Picnic
5/17 BOGO Book Fair (Field Day/All School Picnic)
5/23 Last Day of school
0
Online Directory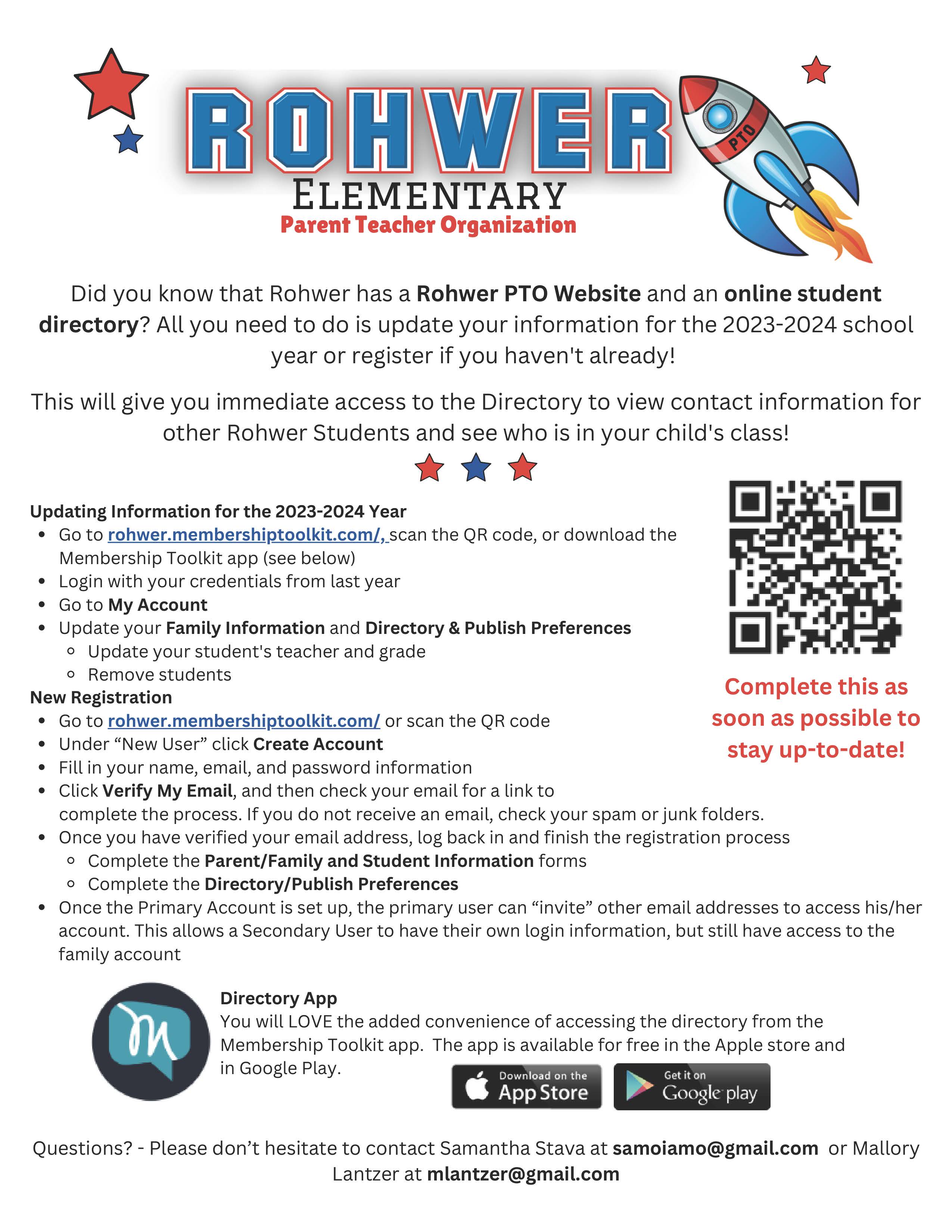 0
Volunteer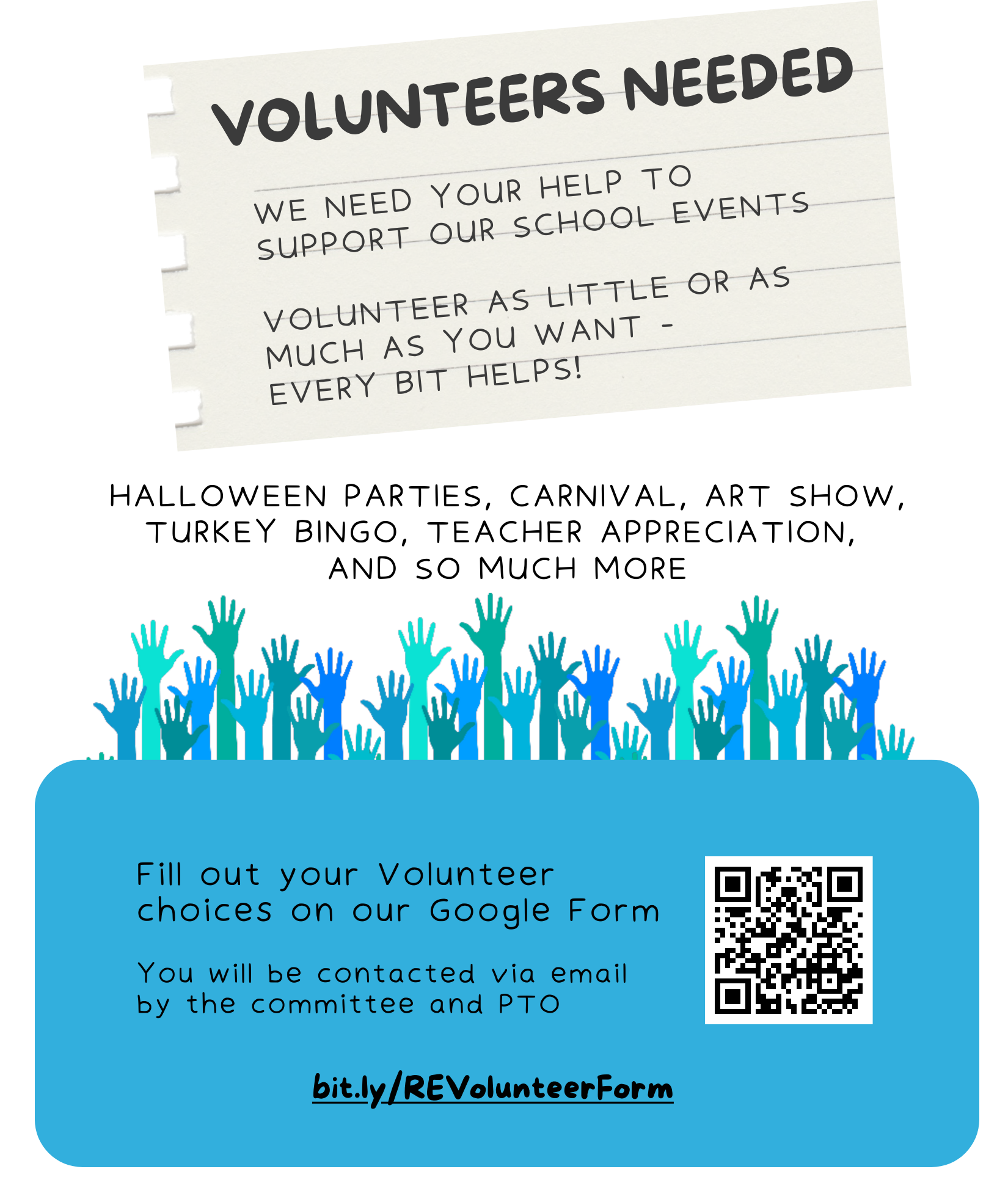 Rohwer Elementary PTO Committee Descriptions 
Art Programs-This committee will help plan and coordinate all art initiatives the PTO implements throughout the year; art installations, after school classes, etc. Have new ideas? Join this committee! 
Book Fairs-Rohwer loves books! Helping here involves setting up and tearing down the fair, as well as running the cash registers during the fair. 
Friday Folders-Ever wonder how all the important papers get into your student's "Friday Folder?" This committee is the one! Volunteers needed to help stuff these fabulous folders each Friday morning. Shifts are usually an hour, depending on the number of volunteers. Grab your coffee and come socialize while stuffing! 
Fun Run Team-Help determine and coordinate the daily, weekly, and team challenges/prizes. Decorate the school with the Fun Run theme. Distribute prizes during the week of the run, assist on the track the day of the run. 
Holiday Cookie Event for Staff-Help this committee with providing goodies for the staff to enjoy before holiday break. Volunteers are also needed to decorate and organize all the treats for this staff favorite. 
Hospitality-This committee helps provide meals for staff for the teacher "Welcome Back" breakfast, the two conference dinners (October and February), We Love You Wednesdays, and secretary/administration meal. Help plan meal ideas/themes, help with setup and cleanup. Create sign-up geniuses for donations. A great way to meet staff and other volunteers in a relaxed environment. 
Junior Achievement-Help plan, coordinate, and implement the program. It's also great fun to teach the courses! 
One School, One Book-A favorite family event! Helping with this committee involves choosing a book the entire school will read and helping to plan the celebration night activities for family night.
Social - Turkey Bingo? Movie Night? Ice Cream Social? What are your ideas for an all-school social event? This committee organizes and brainstorms to plan fun for all families. 
Staff Appreciation Week-Help to show how much we appreciate Rohwer teachers and staff! Volunteers help with planning a week of fun – meals, snacks, trivia, and fun games and activities for the week. 
Variety Show- Lights! Camera! Action! Help this committee by working on organizing and showcasing Rohwer student talent. There is an audition night, rehearsal night, and show night. 
Yearbook-Help create a lifelong memory keeper for students and staff at Rohwer. Volunteers will help take pictures of fun activities and/or help create the classroom yearbook pages for your child's class. 
Sign-Up Genius-Throughout the year, different opportunities come up where food, gifts, or other items are needed. Signing up for this will ensure that you're in the loop! 
"Rocket Power Committee: Volunteer to be the "man power" behind all the exciting PTO events and programming. This committee is for parents who want to just show up and help, but don't want to lead or organize the events. Throughout the school year, you will be contacted with opportunities to help by our various committees, and you can choose when and where you want to volunteer your time."
0
PTO Reimbursement Form
If you need reimbursement from the PTO, please fill out this form and turn into the box in the front office.
0
Supporting Rohwer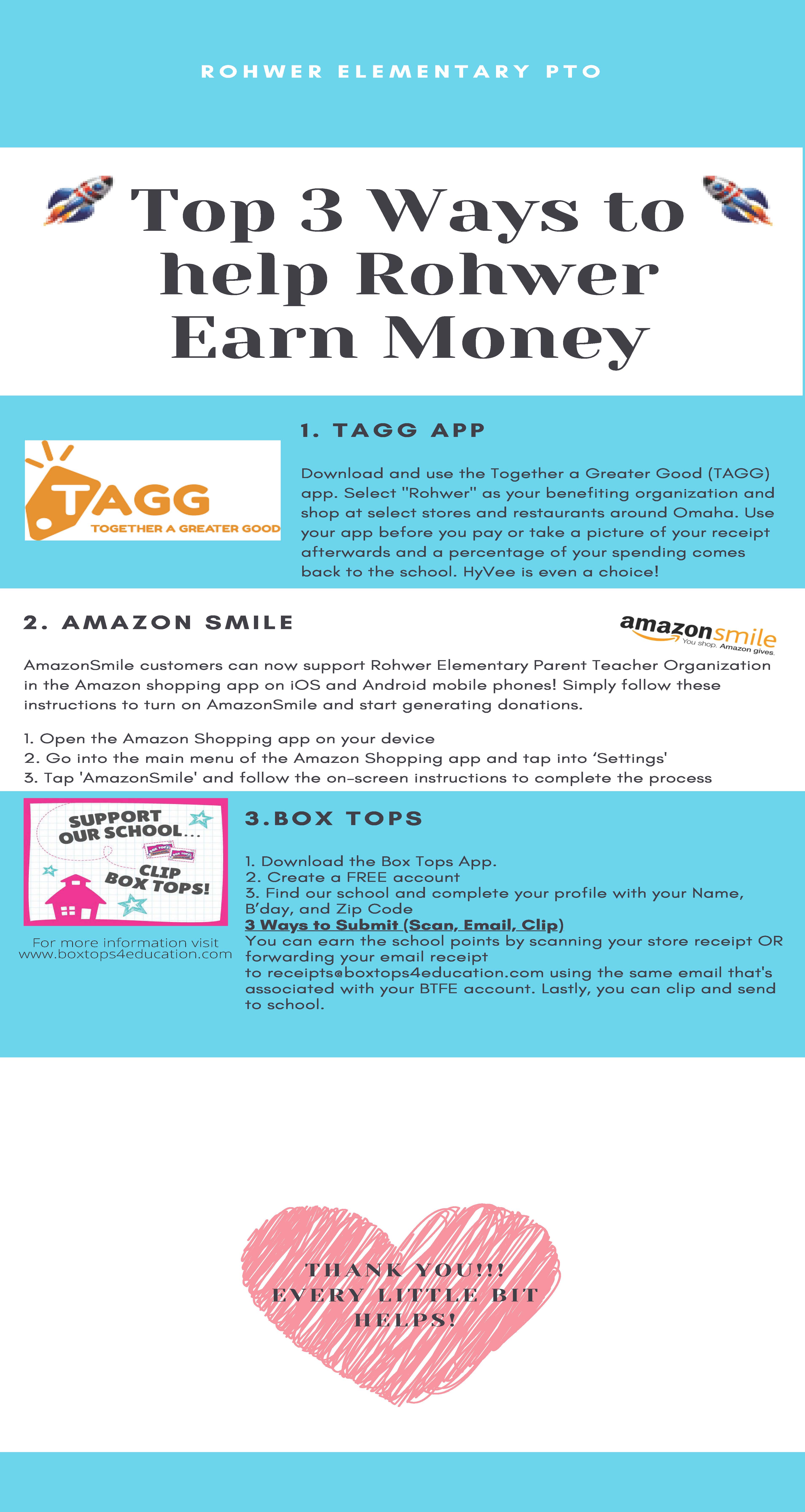 0